GET TO THE art OF IT IN ALTON!
Alton, Ontario, May 15, 2002 – The Lyndia Terre Gallery of Alton features two cutting edge exhibits between now and August to complement the diverse range of artists and media typically featured in this hip gallery in the country. Tom Howlett's MANIFESTATIONS, a contemporary furniture and sculpture exhibition in May and June will be followed by Rochelle Rubinstein's GENESIS: WILD & WASTE, an exquisite installation featuring more than 100 silk panels.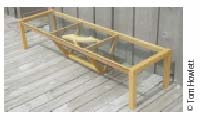 MANIFESTATIONS by wood carver and furniture maker Tom Howlett features wood, soapstone and alabaster sculptures showcased within customized modern table encasements. The tables are constructed of tempered glass and multi-layered Baltic birch. What started out as a therapeutic escape from the demands of owning and operating a thriving marketing business has turned into a full time enterprise for Howlett, who has been honing his skill for over 20 years. He typically uses a range of continental American woods for his creations. "The warm simplicity of the Gallery is the perfect backdrop for these contemporary pieces. I like the multiple designs that he has come up with," says gallery owner Lyndia Terre. MANIFESTATIONS runs until June 24, with a reception to meet the artist on Sunday, June 23, 1-4pm.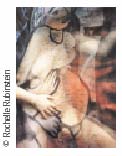 June 30 brings GENESIS: WILD & WASTE – a "wall book" installation by Toronto-based printmaker, painter, fabric and book artist Rochelle Rubinstein. Based on the Book of Genesis, it consists of 122 silk organza panels, featuring images such as an old woman throwing a rock, or a man covering a woman's eye in a garden. The images are printed, painted, draped, photographed, transferred, layered, and pressed against one another, decontextualized. The imagery becomes a modern commentary on ancient text, which is represented by hand-written hebrew calligraphic symbols. At the same time, the Gallery will feature WILD & WASTE – an exhibition curated by Rubinstein, to accompany and enhance the GENESIS exhibit. WILD & WASTE will showcase mixed media art by Michael Amar, Lanny Shereck, Lyndia Terre, and Susan Wosik. Rubinstein's work is exhibited internationally and can be found in collections such as The Museum
of Modern Art and Irish Museum of Modern Art, among others. GENESIS: WILD & WASTE and WILD & WASTE will run until August 25. Meet the artists of both exhibitions on Sunday, August 25, 1-4pm.

Gallery owner and artist Lyndia Terre has broken ground in this thriving artistic community by offering a unique alternative to the big city gallery. Built in 1857 and renovated to historic-contemporary style, the space maintains its original maple flooring and tin ceiling. At any given time you can see the work of a diverse range of artists based in the Caledon Hills, plus special installations by guest artists. Terre specializes in hand-painted etchings, drypoints and oils which can also be found in public collections in the U.S. and in private collections all over the world.



May & June 2002

MANIFESTATIONS by Tom Howlett
Sculpture and furniture designs.


July & August 2002


GENESIS by Rochelle Rubinstein
A printmakers "wall book": commentary on ancient texts.





UPCOMING EXHIBITIONS 2002

August 30 to October 14

BIRCHES by Marilyn Stubbs-Cooney.
A microscopic examination in watercolours.

NATURE ENCAPSULATED by Lucy Roussel – cast glass and steel.
Meet the artists: Sunday, September 15, 1-4pm.


October 25 to December 1

COMPASS by Janice Carbert – carved wood panels and mixed media.
Meet the artist: Sunday, October 27, 1-4pm.


December 6 to 23

LIVING HISTORY: HOMESCAPES by Lyndia Terre.
Physical and psychological observations of objects in use.
Meet the artist: Sunday, December 8, 1-4pm.

GIFTING III – For the internal spirit.
Showcasing the work of selected Caledon-area artists.
Karen Martin | figurative work in oils



ARTISTS CURRENTLY REPRESENTED, ONGOING
Hugh Russel | bronze sculpture
Lucy Roussel | cast glass and steel
Anne Shabason | papier maché wall fragments
Carrole Wilde | pit-fired clay
Jim Lorriman | wood turner
Jim Stewart | oils
Diogenes Baena | black and white photography
Cory Trepanier | landscape in oils
Karen Martin | figurative work in oils
Marilyn Stubbs Cooney | watercolours
Janice Carbert | landscape panels – ink on carved pine
Lyndia Terre | etchings, drypoints, oils



---

LYNDIA TERRE GALLERY
Friday through Monday, 11am to 5pm
1469 Queen Street, Alton, Ontario L0N 1A0
519.940-8118
www.lyndiaterregallery.com

MEDIA INQUIRIES:
Teresa Booth
Tel 519.824.9646 or tbooth@sympatico.ca