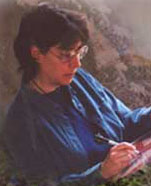 Lyndia Terre, gallery owner and artist.
A BIT ABOUT THE GALLERY

Montreal-born gallery owner Lyndia Terre specializes in etchings, drypoints and oils. Her art can be found in public collections in the United States and in private collections all over the world. She has lived and worked in the Caledon area since 1995 after having spent 28 years in the U.S.A. Enthusiastic about the high quality of art "in the hills" and noting the absence of a professional gallery to represent the artists, Lyndia opened this space to fill the gap. Opened in the summer of 2000, many local and international visitors have stoppped in and praised the high calibre of fine art. Built in 1857 and renovated to historic-contemporary style, this beautiful Gallery has fast become a favourite stop of daytrippers and art collectors.

In 2006 Lyndia moved to Vancouver Island and in March 2007 purchased a new
gallery building and is now representing other artists as well as having a
beautiful new studio for her own work.

Please visit Lyndia Terre's personal website for more examples of her
etchings and paintings. Her personal website will be changing to reflect
new work and the new location to Vancouver Island.
Below
: A selection from the works of Lyndia Terre, the artist. You can find a collection of her work at her own personal website at
www.lyndia-terre.com
.